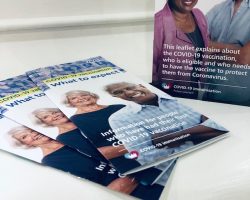 Need urgent social distancing materials to safeguard your work place? Or to disseminate important information to vulnerable groups? Right now Whitehall Printing is helping the NHS, restauranteurs, retailers, charities and schools to develop vital, practical and affordable solutions to public life in lockdown.
This month, we are proud to support the NHS Coronavirus Vaccination programme with essential booklets and appointment cards, ensuring that important information reaches the most vulnerable.
Most of our products are completely unique and bespoke, but Whitehall also offer a range of off-the-shelf Covid-19 Collection of indoor and outdoor signage, posters, floor stickers and banners, should you need a simple solution quickly.
Whilst the pandemic has challenged us, Whitehall are determined not to loose sight of our environmental goals, and we continue to use FSC-certified stocks, vegetable-based inks and renewable energy as standard.
We can't meet you in person right now, but we can support you to get back-to-business as quickly and safely as possible. Rest assured that Whitehall will deliver your items contact-free and that our dedicated staff operate to strict hygiene and safety controls.