Product
Flamingo Flag
Our lowest-price flag product
The Flamingo Economy Flag is an excellent budget flag that can be used both indoors and outdoors. Ideal for showrooms, exhibitions, shops, and anywhere else free-standing marketing is needed.
Includes bespoke-printed graphic on Knitted Polyester
Lightweight and easy to assemble
Easy to transport
Free-standing
Black pole and base
Suitable for both indoor and outdoor use
Easy push-fit assembly
Hollow base which becomes stable when filled with sand or water
The low cost of the product helps keep your prices attractive to your customers while still allowing you great profit margins.
The graphic is made from one piece of flag material, securely stitched on the top and side to form the right-angled, two-pocket shape. A hem with a weighted nylon rod is added in the bottom edge to help hold and maintain the flag's shape.
Please note, the Flamingo Economy Flag pole can only be used with the included base and our basic parasol base. Other, spigot-based bases are not compatible.
Dimensions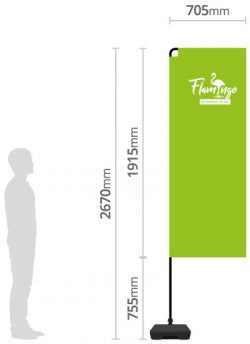 Artwork Templates
Flamingo Flag (Facing Right) Template
Flamingo Flag (Facing Left) Template