Our green choices
In recent decades the print industry has made huge advances to become one of the only sustainable sectors on the planet, planting swathes of new forest across Europe. Whitehall Printing was an early crusader of eco-friendly print, achieving FSC®-CERTIFICATION (License No. C009453) over ten years ago.
Additionally, Whitehall Printing is proud to maintain the internationally recognised ISO 14001:2015 ENVIRONMENTAL STANDARD. This accreditation recognises the achievements of the company as a whole, to mitigate its wider environmental impact.
Here are just a few of the choices we've made:
A low-energy facility where all areas of production are monitored to achieve on-going ISO efficiency targets.
Presses and finishing machinery are powered by 100% renewable energy.
All waste products from chemicals and containers, to ink rags and light bulbs, are disposed of responsibly or recycled by specialist firms.
FSC®-certified papers are used as standard, made of material from well-managed FSC®-certified forests, recycled materials and other controlled sources.
Sponsorship of a local charity, the Forest of Avon Trust helps protect and develop ancient and new forests across the South West UK.
Membership of Two Sides, a campaigning organisation, promoting a better understanding of paper, recycling and sustainable forestry.
Client support to reduce carbon impact by promoting the benefits of sustainably sourced and recycled papers.
'Carbon Balanced' papers offered in partnership with the World Land Trust to offset a product's estimated C02 emissions.
Onsite Electric Vehicle charging for visitors and staff.  Supporters of bike commuters via Bristol's Ride to Work scheme.
Recyclable cardboard packaging and fillers are used as standard and we recycle 100% of our paper off-cuts and overs.
Forty new trees planted in Bristol to celebrate our fortieth anniversary in 2017.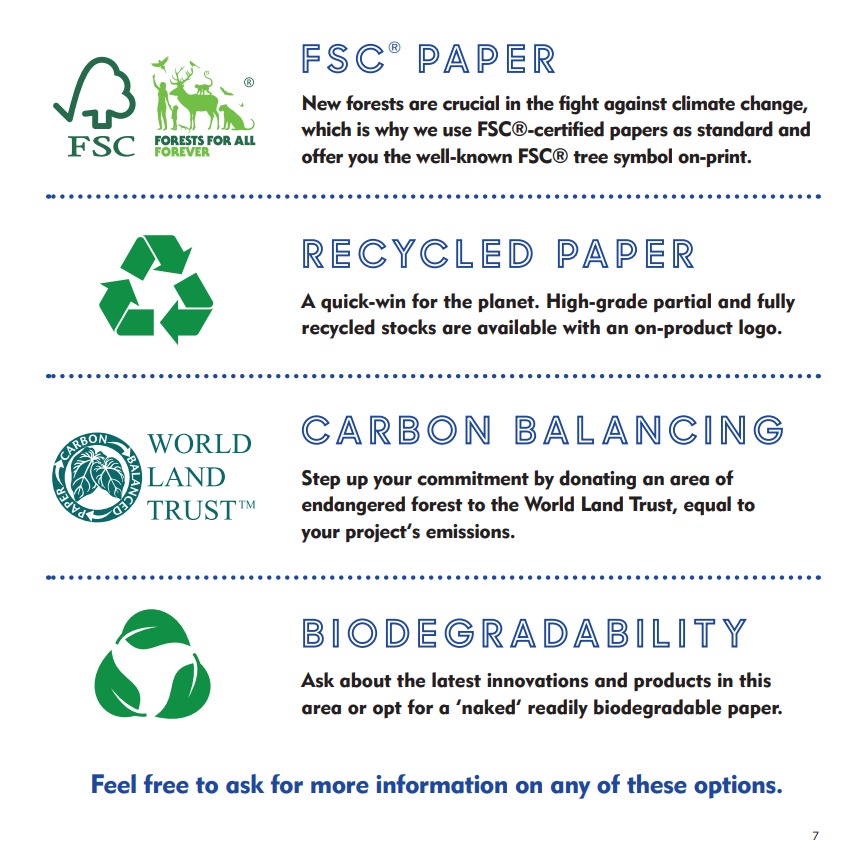 Your green choices
Recycled Papers
Whitehall Printing are always keen to show our clients just how good recycled papers have become.  In many cases these stocks are no more expensive and are equal in quality and performance.  We offer FSC®-certified Mix stocks which combine virgin pulp from well-managed FSC® forests with recycled materials and other controlled sources.
Vegetable Inks
We use vibrant vegetable-based inks in all our lithographic, 4-colour work.  Our clients often like to communicate this fact with a short mention on their print.
Recycling Loop
Paper has an excellent recycling loop so we encourage our clients to factor recyclability into their design.  A range of product-specific logos are available to demonstrate sustainability and to promote end-user recycling, e.g. 'Recycle Me'.  Sourced correctly, print has a positive impact on the environment, supporting the rapid expansion of well-managed pulp forests.  For an excellent source of information on the sustainability of paper, visit Two Sides.
Sustainable FSC® Papers
We offer an exclusive range of FSC®-certified papers which are regulated to strict environmental, social and economic standards.
Only licensed suppliers like Whitehall Printing are authorised to print the well-known FSC® tree symbol onto your printed goods.  The symbol contains a special identifying code that allows the product's journey to be traced through multiple organisations in a 'Chain of Custody'.  Plus, its recognised by over half the British population.
Watch this little film to see how choosing everyday FSC®-certified products can change the future of the world's forests:
For more information visit FSC UK
DID YOU KNOW?
The forests of Europe are now 50% larger than in the 1950s thanks to sustainable forestry.
Green Checklist
We use renewable, mineral-free inks in all our lithographic printing
100% of our paper off-cuts (around three tons a week) are collected and recycled
Waste chemistry is safely disposed by an environmental waste specialist
Our studio communicates with the presses digitally, negating the need for film
Our Heidelberg presses use CIP3 technology which help reduce 'make ready' waste by a huge 85%
Where possible and effective, orders are boxed in cardboard rather than plastic casing
Contact Us
Share this