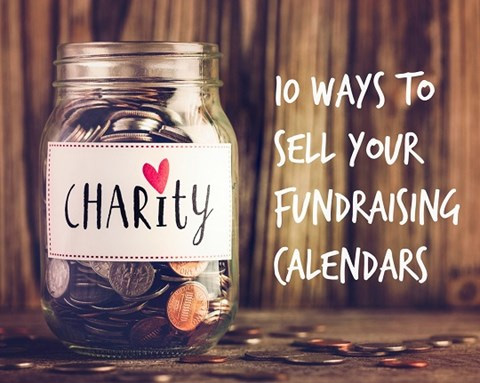 Top 10 ways to sell calendars
November 18, 2014
Autumn & winter are by far the best times to sell calendars and boost income for good causes…but only if your supporters can find them! Here are our top 10 ways to reach people and encourage sales.
1. Offer an early bird discount to those placing calendar orders in advance of production. This will secure profits early and ensure that your calendars don't get forgotten in the frenetic festive period.
2. Christmas Events – Craft fairs, School Nativity Plays, community events  –  make a table-top display of your calendars and remind people of the inspiring work you do. Why not offer a free mince pie with every sale?
3. Open an eBay charity shop – allow your calendars to reach a much larger audience.  People are busy at this time of year so take advantage of quick, easy PayPal payments and free charity listings.
4. Local Shops – get the local community involved by placing a calendar or poster in their shop window or countertop. You could pass the vendor a nominal fee for each sale or ask them to support your local cause outright.
5. The Workplace – place a copy in your staff room or take advance orders. If you have a sponsor, ask them to do the same, and request a mention on their website or newsletter – businesses can often reach larger numbers of potential buyers.
6. Facebook – share the progress of your calendar with followers, take orders via the Shopify Ap (from £6 p/mth subscription) or drive traffic to your website. You can also sell calendars on community group pages with the Admin's permission.
7. Teamwork – ask each of your team members to sell on a small quantity of calendars to friends and family…a tried and tested technique for selling raffle tickets fast.
8. Gift Discounts – Calendars are great Christmas/New Years present so offer a good discount for multiple purchases. Gift wrapping, cello-wraps or paper envelopes will enhance their gift appeal. Depending on size and quality, calendars are usually sold at between £5 and £15 each.
9. Membership upsell – add an optional calendar purchase to subs, membership or termly fees to make it easy for your team members to bag a copy.
10. Press and PR – write up key facts about your calendar, why you have produced one and the work you do. Send this to your local newspaper with a strong lead image, preferably containing people or a local place. The free publicity can really boost awareness and draw people to your events and websites.
Whitehall Printing's specialist website www.teamcalendars.co.uk supports organisations large and small to celebrate their causes and raise thousands in the process. We produce calendars at all times of year to help charities, photographers, schools and community groups to create a memorable, attractive, and good quality products for supporters to enjoy.
For more tips like Team Calendars on Facebook or visit our Fundraising page.