Why We Became Carbon Neutral
June 21, 2022
Whitehall Printing is now offering completely carbon neutral production of printed materials for businesses and charities across the South West.  One of the first printers in Bristol to receive an FSC® license 15 years ago, the family firm has has long been an advocate for identifying and reducing emissions.
Since the company was passed down to brothers Adam and Joe Bendon, the firm has worked to the internationally recognised ISO 14001 Environmental Standard, which takes a 360 degree look at the printing firm's output.  Every element of production has been tweaked from removing plastic packaging to using 100% renewable energy to power the presses.  The brothers have also been involved in local tree planting programmes with the Forest of Avon Trust, and internationally with the World Land Trust, protecting endangered forest.
"Whilst we have successfully lowered our emissions to far below the national average for an SME, we wanted to go further, giving our clients complete peace of mind about the impact of their print, and without adding extra cost," says Co-Director Joe.
"Until we find a way to eradicate our company carbon emissions altogether, we will balance those emissions with programmes that reduce our dependence on fossil fuels. Combined with afforestation, these seem to be the best weapons we have to collectively fight the effects of climate change on future generation".
Whitehall Printing has been independently audited and verified by Carbon Footprint Ltd to calculate emissions of 33.33 tonnes of CO2 per year.  Investment to counter these emissions will go towards running wind and solar energy projects in developing countries, with additional social benefits.
Joe says they intend to do more,
"It doesn't end here. Whitehall are committed to continuous improvement and as part of that we will be switching to electric vehicle deliveries across Bristol this summer".
Whitehall offers electric vehicle charging to its staff and clients at their low-energy premises in Barton Hill, that falls within the city's new diesel free zone.
"We believe that print can have a positive impact on the planet when sourced responsibly. Our paper industry actively supports the afforestation (the planting of trees where there were none before) of an area the size of Switzerland.  If we can remove the additional emissions around transport and manufacturing, this takes us to a neutral position far ahead of most communication industries."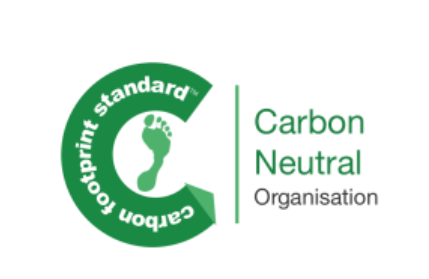 * Whitehall uses FSC certified papers as standard, sourced paper from well-managed European forests.
Paper is currently the most recycled product in the world.
At the present rate of energy consumption, we will need 2.3 planets by 2050.
Whitehall holds FSC®-certified license number C009453.
SMEs have a carbon footprint of at least 6 percent or 25.8 million tonnes / CO2e of total UK annual carbon emissions
This is equivalent to just 4.4 Tonnes per Small company.
The average adult in the UK has a carbon footprint of 12 Tonnes