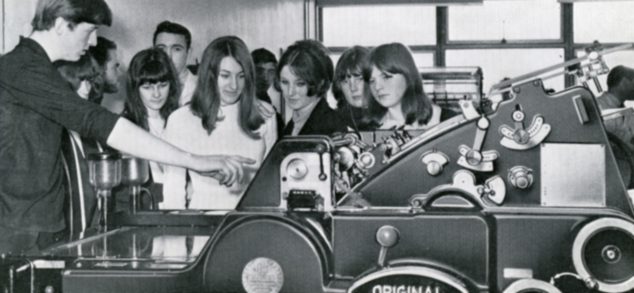 Who will be Whitehall's next Apprentice?!
June 19, 2018
Having just celebrated Father's Day and an England win it seems the perfect time to share this wonderful photograph of Whitehall's grandfather and founder, Colin Bendon, back in 1966.
At the tender age of 15 Colin walked into a high street printer and landed a printer's apprenticeship. He must have impressed them as he ended being photographed for the Heidelberg Magazine at a trade fair, where he seems to be demonstrating his skills to some admirers!
Over 50 years later we are looking to re-create that same opportunity that propelled Colin's career into a thriving family business. We're advertising now for a Print Finishing Apprentice to learn the specialist skills of our trade and to help us maintain beautifully produced work, by hand and with the latest technology.
To apply for the role please visit the National Apprenticeship website:  https://www.loveapprenticeship.com/job/50652/print-finishing-apprenticeship/